Decathlon – Develop HR Management and Audit Application
Decathlon – Develop HR Management and Audit Application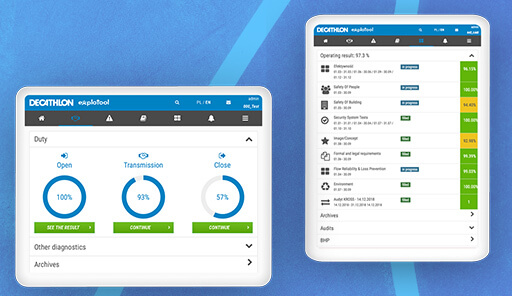 Decathlon is a global sports retailer with over 1,600 stores in more than 60 countries. With a mission to make sports accessible to everyone, Decathlon employs over 100,000 people worldwide. In order to manage its extensive workforce and ensure compliance with HR policies and regulations, Decathlon decided to develop an HR management and audit application.
The HR management and audit application is designed to streamline the HR process and ensure that all HR policies and procedures are being followed. The application provides a centralized platform for managing employee data, including personal information, job descriptions, performance reviews, and training records. This information is easily accessible to HR managers, who can use it to make informed decisions about promotions, pay raises, and other employee-related matters.
The application also includes an audit feature that allows HR managers to review employee data for compliance with internal policies and external regulations. This helps to ensure that Decathlon is meeting its legal obligations and maintaining a high standard of ethical conduct.
In addition to its HR management and audit features, the application also includes tools for performance management, recruitment, and onboarding. The performance management module allows managers to set goals and track progress, while the recruitment module helps to streamline the hiring process by allowing HR managers to post job listings, review resumes, and schedule interviews. The onboarding module provides a seamless experience for new employees, allowing them to complete paperwork, receive training, and get up to speed quickly.
Overall, the HR management and audit application has been a valuable asset for Decathlon, providing a centralized platform for managing employee data, ensuring compliance with HR policies and regulations, and streamlining the HR process. As Decathlon continues to grow and expand its global footprint, the application will play a crucial role in managing its workforce and ensuring that it remains a leader in the sports retail industry.