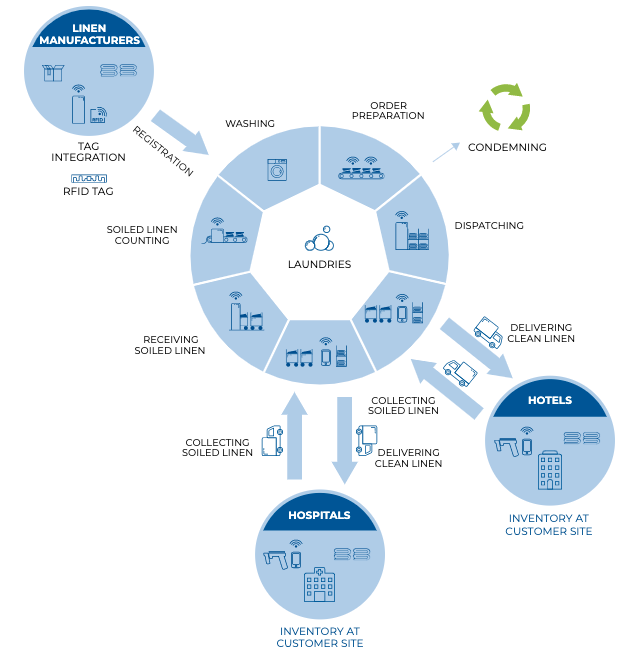 RFID Fabric tag is a formed by automatic production technology, ensures the consistency and reliability of its quality. In particular, excellent performance and falling costs in textile traceability solution, inventory management system,linen management, hotel management etc. Enable it to meet the demand for growing value and innovation.
What RFID Fabric tag will do for you?
Gain realtime visibility over your linen inventory, at customer sites.
Ensure you have sufficient linen par stock to meet your daily demand. Complete visibility over your linen stocks… anywhere, anytime.
Increase customer linen rotations to reduce your overall inventory
Accurately track and monitor linen usage and lifecycle durability
Realtime analytics and reports to optimize your business operations
Optimize operations in housekeeping department and reduce linen management labor costs
Control the service quality of your laundry suppliers
Monitor the quality of your linen. Cut merchandise costs
Keep customers happy and your profit margins high
Solve your Linen/Laundry Management challenges with neoTech!
Know exactly what linen you have, how many you have and where they are located.
Manage In-house and Outsource laundry operation with speed and total accuracy.
Know which linens are needed to be replenished in various stockrooms.
Real time inventory count information of clean and dirty linens in all locations.
Prevents linen loss and leakage.
Control, manage and track linen's wash cycles and discarding.
Enables fast and accurate linen audits.
Easy to use and easy to maintain.
neoTech Linen Tracking Software is a web based application that utilizes RFID technology to monitor and manage linen inventory operations, and is specifically designed for the following industries:
Hotels
Casinos
Resorts
Spas
Hospitals and Healthcare Facilities
Laundries
Linen and Uniform Rental Companies
There are no limitations to our configuration capabilities. DominateRFID Linen Management uses an innovative "Linen properties" feature that allows you to easily customize the fields and parameters of any linen, thereby matching it to your specific linen and Linen Management requirements.
You can use neoTech Linen Management as a stand-alone system or it can be integrated with your existing ERP, WMS or any in house software to provide your application with RFID capabilities.
Sterilization Module
Sterilization module is mainly used by hospitals and healthcare facilities. The module is able to provide significant automation of tasks such as managing and controlling all aspects of sterilization process. It ensures that the linen is washed before getting sterilized. It alerts the user and identifies the dirty linens in the pile.
Uniform Management Module
Uniform Management automates tasks such as assigning garments to an employee, receiving soiled garments for laundering, and sending and receiving garments to and from the cleaners. The system maintains detailed information about every uniform registered in the system; the location, status, availability, and history. It makes the personnel accountable to their assigned uniforms and greatly reduces uniform loss or leakage.
How it works
An RFID tag is sewn into each piece of linen, from towels to sheets to pillowcases. Each tag is uniquely identifiable and enables the system to keep track of every individual piece of linen. The tags are designed to endure extreme temperatures and chemicals to which linens are exposed to during laundering and are able to withstand hundreds of wash-and-dry cycles.
Features
Optimize the laundry operation and expenses with real-time inventory visibility and eliminate less-than-full load wash.
Eliminate losses of linens and automatically records precise quantities of laundered items to and from the outsourced laundry.
Cost savings by eliminating over-counts and over-charges from outsourced laundries.
Speed up linen guest requests thereby improving guest satisfaction through faster and more reliable service.
Use wash cycle count information for discarding linens and track lifespan and durability of linen by manufacturer.
Not All RFID Solutions Are Created Equal
Extensive R&D and years of experience have molded our software into the world-class RFID application it is today. Our goal is to make RFID applications that are intelligent, easy to use, reliable and affordable.
This is just the tip of the iceberg of what our solutions can do. When it comes to the functionalities required for a robust RFID Linen Management solution, we literally thought of everything.
neoTech Linen Management, another great product from neoTech. There's nothing like it.
100% of what you want.
Simple to use. Simple to maintain. No barriers. No complications.
For more details of our solutions, please contact our Sales department: 0902 978 179 or email: info@neotech.com.vn